History of Japan Go Society for the Visually Impaired
---
Start of the Sociey
The Sociey started in October 1993. Based on the idea that the visually impaired could enjoy playing go evenly with the sighted if 9x9 board sets were employed, the Society was established, nominating Setuo Mori 9 dan as president and the students of Kansai Student Go Federation as directors.

Magnet type black and white stones with marks and go boards with lines and fixing holes were devised so that the visually impaired could identify stones and board positions and play go smoothly.

The textbooks for beginners were written in braille by Mr, Toshikazu Kato, president of Japan Light House, an incorporated welfare association, Tsurumi-ku Osaka city.

And in January 1994, student volunteers from go clubs of Osaka University and Kobe University started to instruct and play go with pupils of Osaka Municipal School for the Blind, Sumiyoshi-ku Osaka city.
---
Progress of the Society
Participants in playing go were invited on the radio. Efforts were made to spread go games, through go instruction, mainly to pupils of schools for blind in Kansai,
---
First National Go Contest
The contest was held in March 1995 in Naniwa, Osaka city. 11 pupils participated from the schools for the blind in Kansai.
---
Second National Go Contest
The contest was held in June 27, 1999 at Konishi Hall in Chuou-ku Osaka city. At the same time, go games by tele-communication was performed among Osaka site, Tokyo site (School for the Blind annexed to Tukuba University) and Kumamoto site (Kumamoto Municipal School for the Blind), The participants including volunteers were more than 100 in total. The details were reported on the home page of "Iimachi Volunteer".
---

The home page is partly introduced with the courtecy of Iimachi Vokunteer.
"The second national go contest by the visually impaired" was held in the Osaka Konishi Hall at 13:00, June 27th 1999. The event was sponsored by the Japan Go Society for the Visually Impaired. The participants was more than 100 including volunteers in three sites. the games were extremely exciting hereband there.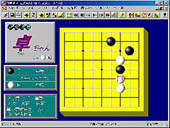 At the event, go software,Go Software Taku-chan, was installed on the parsonal type Phoenix computer to realize a distance go playing with interactive image and voice transmission.
Heated games by tele-communication were held among three sites, Osaka, Yokyo and Kumamoto.
Go games by tele-communication employing "Taku-chan" were succesful and wekcome by the participants owing to software's voice recognition and converstion between players. The sponsor side intends to spread further this type of go playing among the visually impaired. 
| | | |
| --- | --- | --- |
| Osaka site | Tokyo Site | Kumamoto site |
<System Image>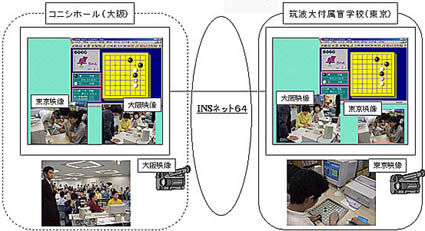 At present, following organizations are playing go game with 9x9 board.
<Schools for the blind>
Tukuba Univ, annex, Kyoto Prefectural, Osaka Prefectural, Osaka Municipal, Nara Prefectural, Wakayama prefectural, Kumamoto Prefectural, Kobe Municipal and Ishikawa municipal school for theblind.
<Welfare center and groups>
Koufu city, Nara city, wakayama city, Sakai city, Neyagawa sity, Amagasaki city, japan Light House (Tsurumi), Kyouto Light House, rakusei dormitory, Himawari(Toyonaka city), Hirakata city and Kadoma city groups,Nagaoka city, Kamaishi city, and Miyazaki city.

<Contact>
Japan Go Society for Visually Impaired
As a means of communication between the visually immpaired and the sighted, beyond the coountry boarder, impairement, sex and age, 9x9 boards ae ulilized to spread go among the visually impaired.
Address: Ikoma Bldg, Tenma 1-12-2, Kita-ku Osaka city 〒530-0035
Tel : 06-6358-7069/FAX: 06-6358-7146
E-mail:F. Miyamo

---
Present movement
Go games are expanding from schools for the blind to welfare facilities and general public in various areas. To correspond to this situation, supporting volunteers are invited.